Video Meeting Hub for Heckler AV Wall
Add an elegant camera shelf, accessibility, and component mounting to Heckler AV Wall Structure.
H807-BG
Regular price

Sale price

$1,199.00
Create an ideal home for all your video meeting devices with Video Meeting Hub. This accessory for your Heckler AV Wall creates an attractive focal point in your meeting rooms that has the presence of modern furniture without occupying precious room space or floor space. Requires the use of H800 Heckler AV Wall Structure, sold separately.
Please allow two weeks for this item to ship.
Free ground shipping on orders of of $100 or more to the contiguous United States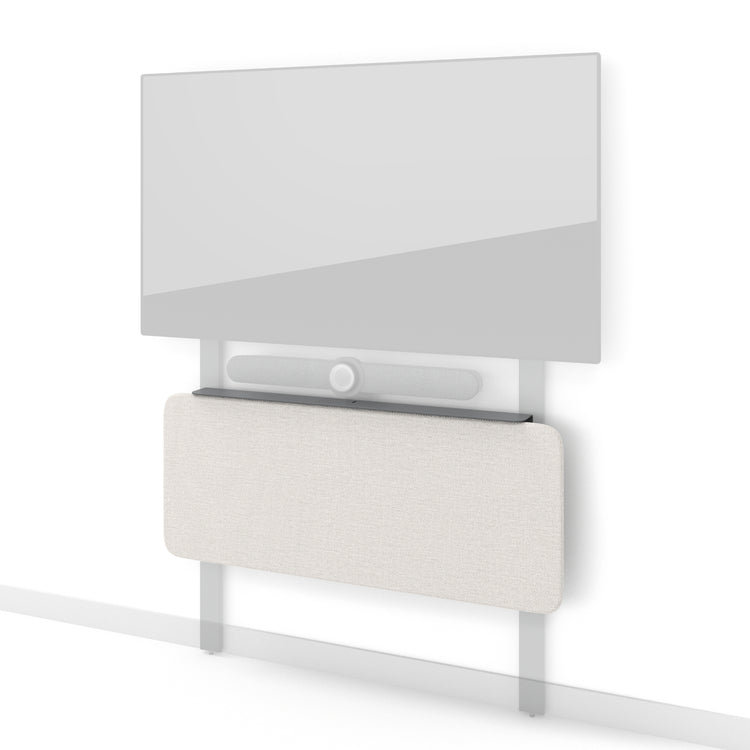 Designed and Made in Arizona
Designed to work together.
With Video Meeting Hub added to your Heckler AV Wall Structure, you're ready to mount your camera atop its shelf and conveniently store and organize cables and devices behind its eye-catching front panel. The kit is designed to be mounted in front of your pre-existing wall outlets to create a clean look and eliminate the need to call an electrician. Every element of the kit works in harmony to empower your video meeting system deployments.
Designed to tame the mess.
With the Video Meeting Hub's Device Panel you can mount and organize small devices and cables from the comfort of a tabletop in your office. Strap everything to the aluminum grid pattern using the provided hook & loop straps. Got VESA-mountable accessories like mini PCs? Great. The Device Panel also features a grid of VESA-compatible M4 holes so you can fasten components directly to the panel. When your panel is ready to deploy, simply hang it to the Video Meeting Hub's shelf.
Designed for rack-mounted components.
Tucked neatly behind its front panel are two, 1RU 19-inch rack-mount locations - perfect for power distribution and other 1RU and half-rack components.
Designed to impress.
While Heckler AV Wall solves many technical challenges, its greatest strength is its looks. A beautifully sculpted, fabric-wrapped panel adds a premium, modern focal point to your meeting spaces. Heckler AV Wall has the presence of furniture, without needlessly occupying precious floor space. Your IT and AV team will be impressed with how easy the panel installs and how easy it is for them to access their gear.
Designed for eye contact.
Install Video Meeting Hub at a height to create a comfortable eye-line with your camera. And Video Meeting Hub redefines the ADA guide path in your rooms to enable ADA compliance when placing larger camera systems at the eye-line.
Designed to complement.
The best collaboration spaces have personality. To help you create personality, we offer Video Meeting Hub with a front panel wrapped in premium Maharam fabrics in five modern colors.
Designed for easy shipping.
Video Meeting Hub for Heckler AV Wall can be shipped via small package carriers anywhere in the world - perfect for global standardization for all of your meeting spaces. Have a mass deployment? Up to ten Video Meeting Hubs can be efficiently shipped on a single pallet.
Designed to reconfigure.
Video Meeting Hub is one of an ever-growing set of accessories for Heckler AV Wall. As your meeting spaces evolve, you'll be ready to reconfigure them quickly and easily with the latest technology.
In the box.
Shelf
Side Brackets
Felt Side Panels
Device Panel
Front Panel
Assembly hardware
Specifications
Heckler SKU

H807-BG
H807-OW
H807-BL
H807-GN
H807-HY


Warranty

2 years


Material

Powdercoated steel
Powdercoated aluminum
High-density urethane (HDU) front
Panel wrapped in polyester fabric
Felt side panels

Product Dimensions

Shelf

47.5 x 5.4 x 2.9 inches
1207 x 137 x 75 mm

Fabric Cover

57 x 23.25 x 1 inches
1448 x 1194 x 25.4 mm

Device Panel

38.4 x 12.8 x 0.67 inches
976 x 326 x 17 mm

Product Weight

Shelf

11 lbs / 5 kg

Fabric Cover

13 lbs / 5.9 kg

Device Panel

3.43 lbs / 1.6 kg


Shipping Dimensions

59 x 25 x 5 inches
1499 x 635 x 127 mm


Shipping Weight

40 lbs / 18.1 kg