Dual Display Kit for Heckler AV Cart
Upgrade Heckler AV Cart To Two Displays
H701-BG
Regular price

Sale price

$549.00
Double your Heckler AV Cart's screen real estate with Dual Display Kit. This kit enables you to upgrade your Heckler AV Cart to support two displays - with screens sizes up to 75-inch. Create the ultimate presentation canvas, video conferencing environment, and more with Dual Display Kit for Heckler AV Cart.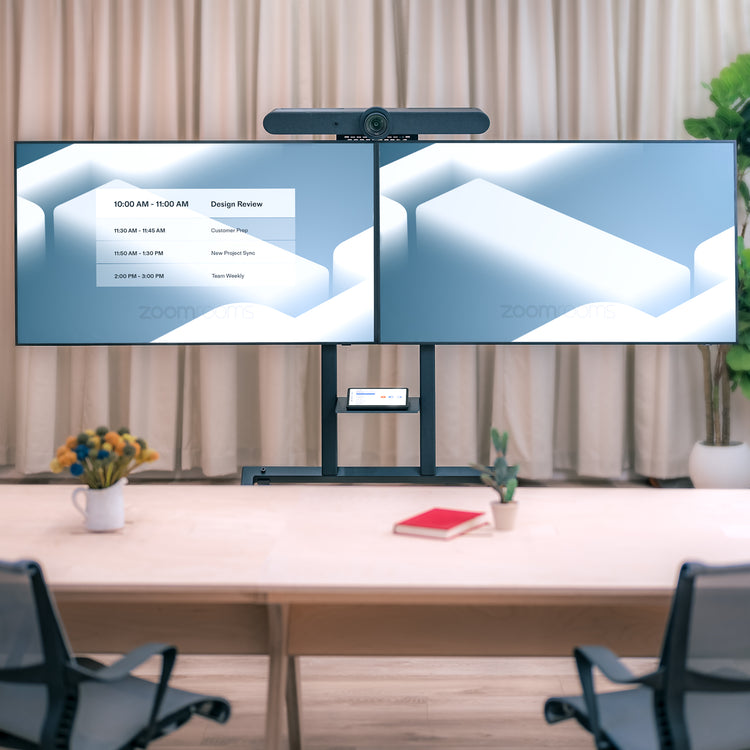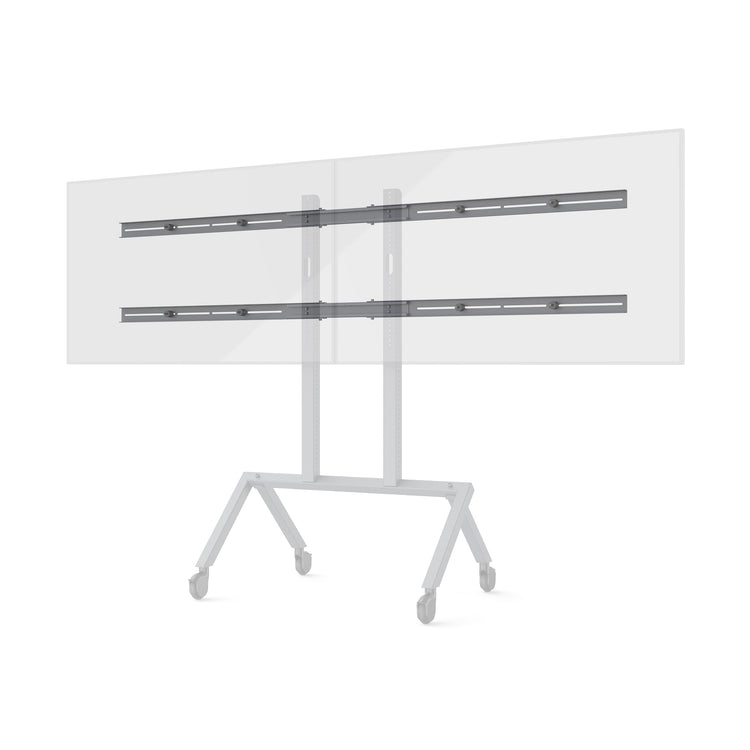 Designed and Made in Arizona
Make an impression.
Grab attention, maintain your audience, and get your point across. Effectively communicating to a large group near and far is a challenge. Two large displays will simultaneously present your infographics and the faces of your remote participants. Two large displays on wheels mean you can bring the meeting to your people in an open space.
Not a bad seat in the house.
Build your meeting cart to perfectly suit your specific environment. Dual Display Kit is compatible with dual displays from 55-inch to 75-inch, from VESA 300 to VESA 600, and a total display weight of up to 300 pounds. Your audience will have a great view whether they are in the front row or in the cheap seats.
Let your fans come backstage.
In the past, you've probably built carts with backsides you're not proud of. You wish people won't see the mess you made back there, but they will. At Heckler, we want you to be proud of your carts from all angles. Dual Display Kit's appearance is sleek, simple, and strong. When in use, compatibility with all Heckler AV Cart accessories is maintained, so you are free to cleanly mount and organize your camera, controller, NUC, power adapters, and wiring with accessories like Display Panel and Control Panel. You'll welcome your audience to walk behind this cart.
Look 'em in the eye.
Dual Display Kit offers mounting points for our Eyeline Camera Mount. That means you can mount a small camera to the upper or lower bar to create a tele-presence-like eyeline experience for both standing meetings and seated meetings. You no longer need to endlessly debate "above or below display" with your colleagues. Mount wide-angle cameras like Jabra Panacast to capture your entire, socially-distanced audience.
Arrive in style.
Don't let shipping costs take the wind out of your carts deployments. Our new & improved Dual Display Kit now ships in a small box that is cheap to ship via any small package carrier. Deploying dozens of Dual Display Heckler AV Carts? No problem. Up to 10 Heckler AV Carts with 10 Dual Display Kits can ship atop one standard pallet.
In the box.
Dual Display Bars
Assembly Tools
Mounting Screws
Mounting Wing Nuts

Display-Mounting Hardware for the second display. Use the display-mounting hardware that ships with Heckler AV Cart to mount your first display.
Specifications
Heckler SKU

H701-BG


Warranty

2 years


Material

Powdercoated Steel

Product Dimensions

96 x 2.8 x 1 inches
2438 x 70 x 25 mm


Product Weight

30 lbs / 13.6 kg


Shipping Dimensions

46 x 5.5 x 3.5 inches
1168 x 140 x 89 mm


Shipping Weight

33 lbs / 15 kg

Compatible Devices

Supports two displays up to 75 inches each,
up to 600 mm horizontal VESA pattern and up
to 300 pounds together.

Note: Smaller displays with alternative
VESA patterns are supported.