Architectural-Grade Design
Mounting an iPad in your environments need not result in your space looking like the set of a low-budget science fiction show. We've designed WindFall Wall Mount to be a welcome addition to impeccably designed interiors. Its heavy steel construction and minimalist aesthetics will look like an integral part of your environments.
Power-Over-Ethernet Compatible
PoE power is the obvious choice to deliver power to your wall-mounted iPad devices. WindFall Wall Mount enables a number of PoE scenarios. The mount has an integrated mounting point for WiFi Texas PoE Splitter (sold separately) enabling full forward-of-the wall installation. You can also use encased PoE Splitters such as this one, placed behind the mount in a double-gang box to enable power and wired networking to your iPad.
You shouldn't have to destroy your walls to securely mount an iPad. You can quickly and securely install WindFall Wall Mount with only two screw holes and one additional hole for the ethernet cable.
Shown with WiFi Texas PoE Splitter (sold separately).
To ensure proper device cooling, WindFall Wall Mount is thoughtfully designed to maintain a constant flow of air over the entire rear surface of your iPad. As your device screen will likely be on non-stop, it's critical to protect against overheating.
Power + Data with Redpark Adapter
Utilizing the extra space provided by a double-gang box, pair your Wall Mount with Redpark Gigabit + PoE Adapter for iPad (sold separately) to send both power & data to your tablet via ethernet. This MFI-certified (Apple approved) adapter will keep your tablet powered throughout the day, and provide a reliable ethernet connection that supports speeds up to 225 Mbps.
Heckler AV Wall Mount
Drywall mounting hardware
Assembly tool
Width: 12.3 inches
Depth: 1 inches
Height: 8 inches
iPad 10.2-inch 7th Generation
BlueJeans, Robin, Teem, Zoom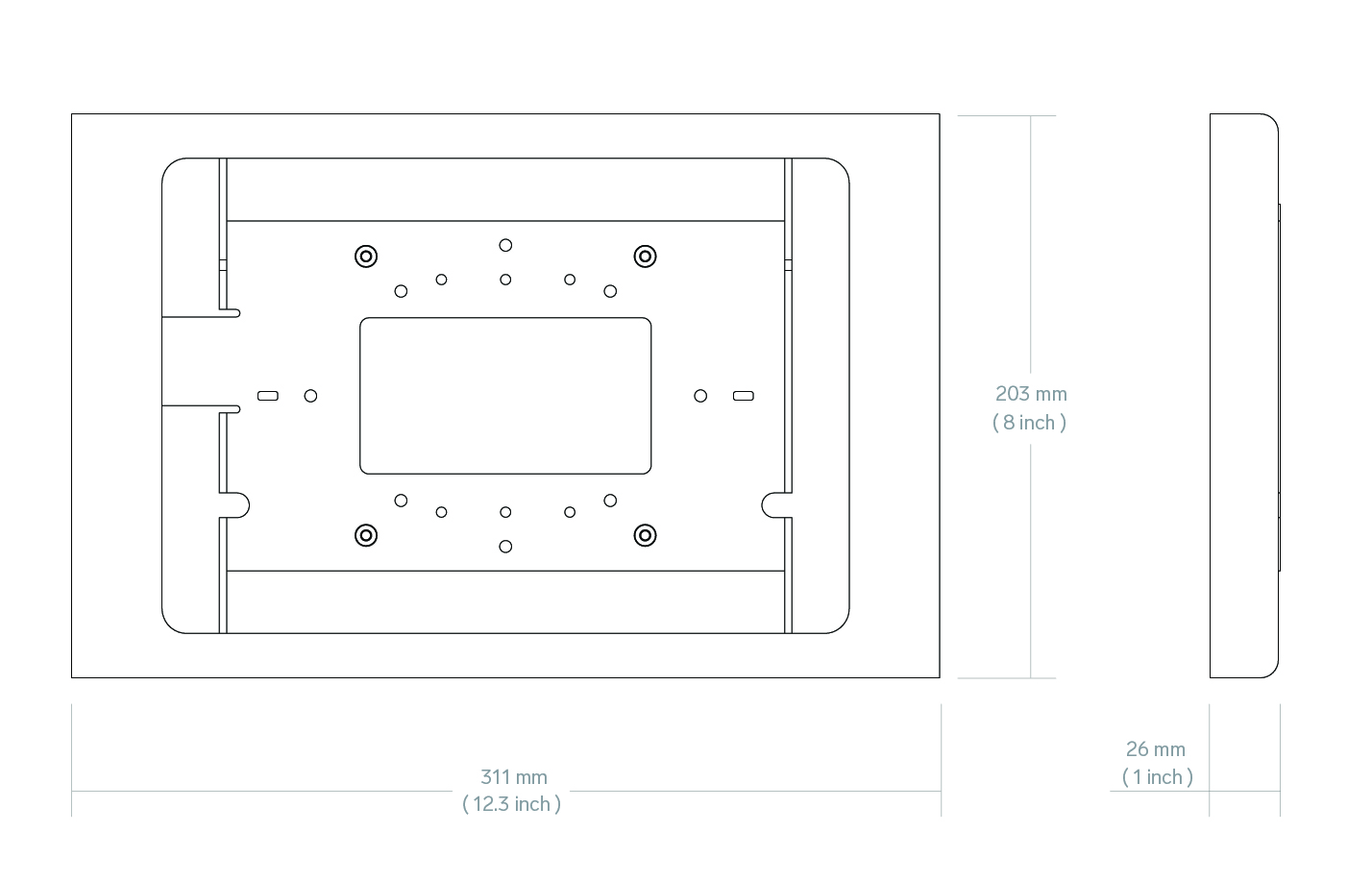 Sorry, there are no reviews for this product yet.